Amylcinnamaldehyde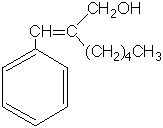 | | | | |
| --- | --- | --- | --- |
| Formula | MI Number | CAS Number | C.I.Number |
| C14H18O | | 122-40-7 | |
MI: Merck Index Number

CAS: Chemical Abstract Service Registry Number

C.I.: Chemical Index Number
---
Background
Amylcinnamaldehyde is a raw material in the production of perfumes.
---
Beschreibung (ger)
Alpha-Amyl-Zimtaldehyd, eine grünlich-gelbe Flüssigkeit, Bestandteil von mehreren synthetischen ätherischen Ölen, ist in Kosmetika zu finden, mit charakteristischem Jasmingeruch und wird als Geschmacksverstärker eingesetzt (z.B. Jasmintee).

Synonyms
a-Amyl-cinnamaldehyde
a-Amylcinnamic aldehyde
Amylcinnamaldehyde

---
Uses
Perfumes
Cosmetics

---
Cross-Reactions
Amylcinnamic alcohol

---
Unusual Reactions
---
References
1. Guin, J.D. and P. Hamey, Sensitivity to a-amylcinnamic aldehyde and a-amylcinnamic alcohol. Journal of the American Academy of Dermatology, 1983. 8: p. 76.
2. de Groot, A.C., et al., Patch tests with fragrance materials and preservatives. Contact Dermatitis, 1985. 12(2): p. 87-92.
3. Adams, R.M. and H.I. Maibach, A five-year study of cosmetic reactions. Journal of the American Academy of Dermatology, 1985. 13(6): p. 1062-9.
---
Most of this information originates from 


Trey Truett, MD 
truettap@ctrvax.vanderbilt.edu.